Commerzbank Arena Retractable Roof
A new roof to completely protects 48,000 people against a storm or open up to the sky for year-round use.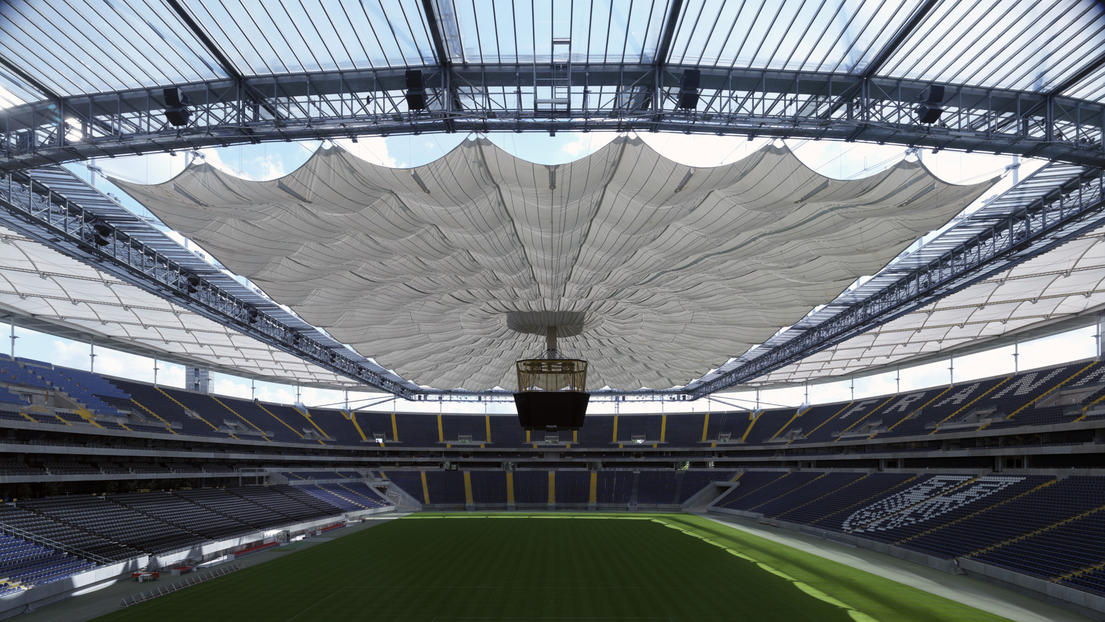 The retractable roof of The Frankfurt Waldstadion was designed so that this historic stadium could accommodate a maximum crowd in any weather. A deployable membrane roof was chosen because it would allow for consistent lighting and climate while being minimally invasive to the historic stadium.
Tensile Evolution's Horst Dürr* was responsible for calculating the forces that would be required to tension the vast retractable roof, which features 72 radial cables that needed to be accurately tensioned and anchored to the existing structure. The improved Commerzbank Stadium continues to serve Frankfurt year-round as a World Cup quality venue for both Men's and Women's tournaments as well as for concerts and other events.
*Previously of IF-Group
Client: Waldstadion Frankfurt Gesellschaft für Projektentwicklungen GmbH
Location: Frankfurt, Hesse, Germany
Completed: 2005 (Renovation)
Architect: GMP · Architekten von Gerkan, Marg und Partner, Max Bögl Group
Engineer: Schlaich Bergermann und Partner
Membrane Area: 29,000 m² (Fixed roof) 8,200 m² (Retractable)
Membrane Material: PTFE, ETFE
Scope of Work: Detailed Force Calculation, Patterning, Installation Method